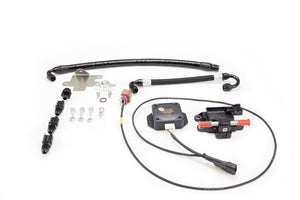 The second generation GT1R Flex Fuel kit is improved in both being completely plug and play to all year model R35 GTRs, as well as the sensor being relocated to the pressure side of the system.
The sensor on the pressure side of the system gives more consistent readings in the event that return fuel flow is minimal (if you're nearly maxing out the fuel pumps).
We've also updated the wiring and now offer a plug and play wiring harness.  Like the rest of our wire harnesses, we use Race Spec, the best in the business.   Our harness is assembled using Mil Spec tefzel wire, Raychem DR-25 heat shrink, and new connectors for a durable and clean PNP installation.
The flex fuel converter box converts the digital signal from the ethanol sensor to a 0-5v signal that the stock ecu requires.   With this converter, the output is .5v for 0% ethanol and 4.5v for 100% ethanol.
There is no display used with this kit, as both Cobb and EcuTek allow the user to view ethanol content in their own ways.
The complete kit includes all plumbing, with high quality Redhorse Performance ethanol compatible hose and crimp hose ends, the ethanol content sensor and mount, and the PNP wiring harness.
We offer kits to suit the stock fuel rail, or aftermarket rails.  The stock fuel rail kit includes a rail adaptor to convert the rail inlet to AN threads.  If you're using aftermarket rails, you will need to specify what size the rail is (6AN ORB or 8AN ORB).